Back to School: Top PMO Courses to Consider
Looking for PMO courses or a PMO training that you can start right now?
Then you came to the right place.
What is a

 

PMO?
The PMO or Project Management Office is commonly used to refer to the company department that sets the practices and standards for project planning,  project reporting, and the management of the projects execution.
As companies undertake multiple projects, and resources management gets more demanding and the risk of project failure and project complexity increases, to better manage the expectations of owners and stakeholders, it is a recommended practice to have a PMO in place.
The PMO also keeps an eye on the bigger picture and ensures projects are aligned with the business goals of the organization. Hence, the members of the PMO are also in charge of organizing projects into project programs and project portfolios and overseeing, as well as managing and optimizing their performance.
In the article below, we will list a few courses that can help project professionals advance their knowledge and gain skills about creating and running an efficient PMO, and better managing projects and project portfolios.
The PMO courses are listed in no particular order:
PMO Learning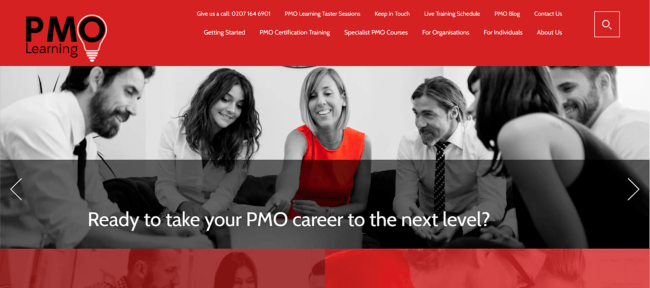 PMO Learning is a training institute that provides courses for people who work within PMOs from Project Administrator through to PMO Directors and Heads of Departments.
PMO Global Institute

PMO Global Institute Inc. is provides PMO courses for program, project and portfolio managers who are involved in establishing, defining and running high performing PMOs in a different industry sector. The institute provides PMO certifications across the globe.
PMO Advisory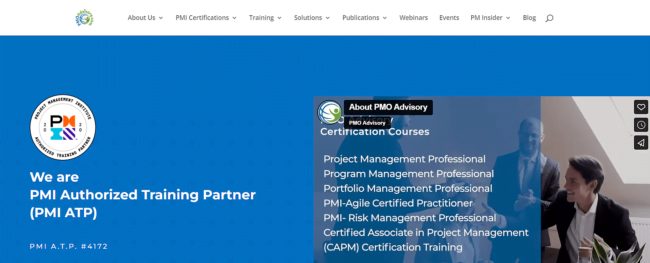 PMO Advisory as a management consulting firm and and Authorized PMI Training Partner, that offers a considerable number of project management certification training, including a PMO training. The PMO course is three-hour long, live virtual course and it is mainly designed for participants to strengthen their understanding of the PMO.
Institute Project Management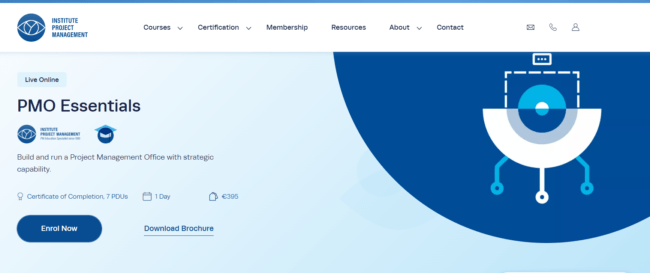 The institute of Project Management has been providing certified project management education since 1989. By attending this PMO certificated course, you will learn about the essentials and the best modern practices in the PMO world. When the scheduled training comes to an end, you will be able to immediately apply your knowledge and new skills in setting up and managing a highly efficient PMO in your organization.
Informa Connect

The Project Management Office (PMO) course by Informa focuses on the how to of implementing and operating a successful PMO.
Wellington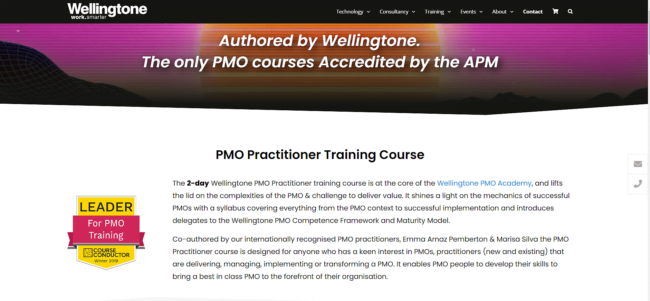 The Wellington PMO practitioners training course is an APM accredited course on the complexities of the PMO and the challenges associated to delivering value from this department.
ProjectingIT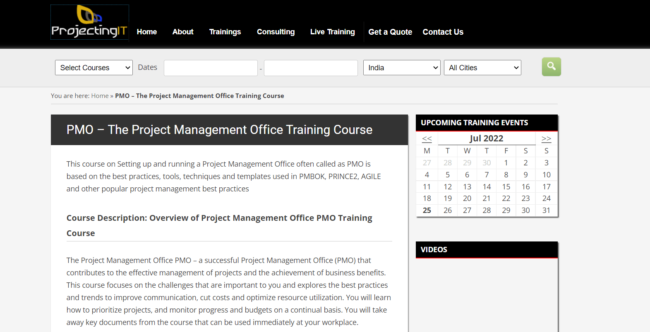 Next on the list is ProjectingIT, a company based in Mumbai India that offers project management consultancy and training. They provide adept consultancy and resources on development of project management and delivery management processes. The PMO training is based on the best techniques, practices, templates and tools used in PMBOK, PRINCE2, AGILE and more famous project management best practices.
HOTPMO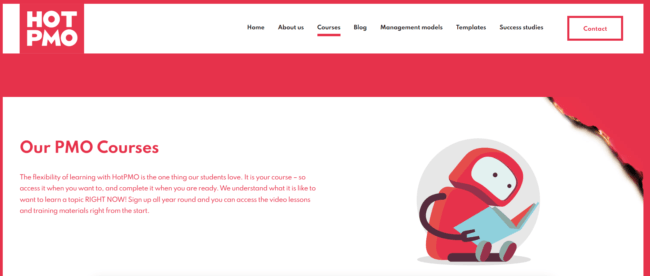 HOTPMO is a project management and PMO consulting company that supports companies to bring the right things more effective. The PMO courses are led by experienced instructors who gained their knowledge with dedicated work in the field of project management. With these courses you will grow your theoretical expertise, but also it will be shown how to implement all of that in practice.
Netmind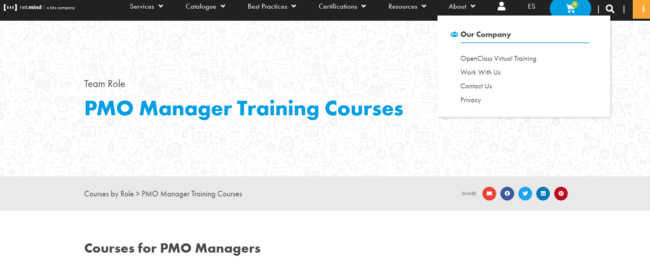 Netmind is a company that offers training and consulting services. These courses are made exactly for people looking to expand their competence as a PMO Managers. OpenClass courses can be recorded and according to that students can review them in the future.
PMO Courses Summary
We hope that this article has managed to provide few interesting course recommendations that can help you learn more about PMO and upgrade your professional knowledge as a project professional and PMO practitioner.
And if you are looking for a PPM software tool that can fully support your organization and PMO in managing projects, programs and project portfolios, do check out and give PPM Core a try.