PPM Tools Gartner Magic Quadrant – Project and Portfolio Management
What are the PPM tools Gartner listed in their magic quadrants analysis? What is Gartner and the magic quadrants?
This article will answer these questions and provide an overview of the 2019 report on PPM tools by Gartner.
What is Project Portfolio Management (PPM)?
Project portfolio management is optimization and analysis and of costs, resources and actions for a group  of programs and projects organized together within a "project portfolio".
The main objective of PPM is making sure that the results in the project portfolio support the important goals and objectives of the business in the organization.
This is usually overseen by project, program and portfolio managers or the PMO, through business analysis, tacking progress, reviewing budgets and forecasting while managing, the resources and the stakeholders expectations and minimizing risks associated to the projects and project portfolios.
What are PPM tools?
With PPM tools you can collect, model and analyze data to make sure that a project portfolio is aligned with the long-term strategic planning and goals of the company.
PPM Tools give you insight into past and current project metrics and allow you to analyze projects performance, as well as pinpoint activities within a project that aren't contributing to an organization's corporate objectives and take immediate action to keep project aligned with the business goals and on schedule and budget.
These tools can help companies better manage project through every stage of the project's lifecycle and therefore selecting the right PPM tool for your organization is a vital step towards keeping aligning projects and project portfolio aligned to the business strategy.
PPM Tools Gartner Report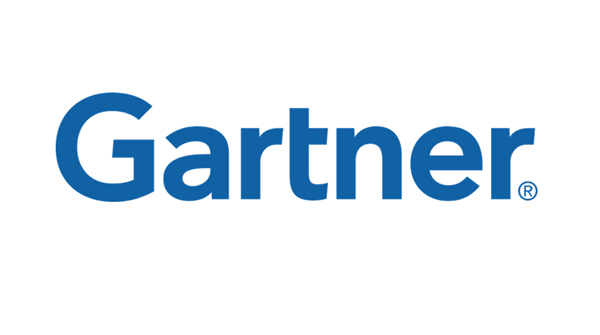 Gartner is a hi-tech research and consulting company located in Stamford, Connecticut. They provide insights and expert advice to clients enterprises around the world and help them make quicker and smarter decisions.
Two main data visualizations and analysis tools of the company are Gartner Magic Quadrants and the hype cycle.
Over all major functions, in every industry and size of enterprise, Gartner is an objective, essential research and counseling partner to more than 15K companies in more than 100 countries. Clients can make challenging business decisions, get software recommendations or define plans according to Gartner methodologies. They consist of research practices and procedures that distill larger volumes of data into clear, precise recommendations.
Gartner Magic Quadrants
The Gartner Magic Quadrants is a visualization tool and research methodology for inspection and evaluating the movement and positions of companies in a specific, technology-based market.
It represents a company's integrity of vision and capability to execute their vision compared to market standards and more technologies in the same category over graphic presentation.
Gartner can determine the It standards that are in place today and the market trends that will become a reality in future with it's global reach, stationed over 100 countries.
The four Gartner quadrants are as follows:
1. Challengers (Top Left)
Challengers are vendors/solutions that have an overall solid and well-recognized position in the marketplace. They may lack strong vision, but they have the ability to execute and also may not demonstrate an understanding of market direction.
2. Leaders (Top Right)
These vendors/solutions have demonstrated past success along with clear roadmaps of the standards expected in the future. Also, they have demonstrated the ability to execute today's standards. Leaders can affect the market's overall direction and have a large amount of pull over a specific market.
3. Niche Players (Bottom Left)
Niche players vendors/solutions focus successfully on a small segment, or are unfocused and do not out-innovate or outperform others. They adapting their existing products to enter the market under consideration, or larger vendors having difficulty developing and executing on their vision.
4. Visionaries (Bottom Right)
Visionaries have a vision for changing market rules, and do not yet execute well, but also understand where the market is going.
PPM Tools Gartner Report 2019
Every year, Gartner Inc. analyst, publish their estimation of the software products and companies from the PPM world.
In this article we will provide a short summary of the Gartner 2019 report of the PPM world, which analyses 17 companies based on 15 criteria including the ability to execute and completeness of vision.
Before we go into the summary, we would like to introduce you to a new PPM tool.
New PPM Tools

While not officially on the Gartner PPM tool list, PPM Core is a new PPM tool, recently launched in 2022 and developed by Synami, a company with a proven track record and two decades of experience in delivering software product innovations in the field of project management.
PPM Core is a cloud-based project and portfolio management platform that connects all project participants and unites all project data to provide a "Single source of truth: and empower seamless collaboration across teams, companies, and projects.
The software is designed to support project-oriented companies in overcoming today's challenges related to managing projects of different sizes with multiple different project participants, where efficient communication and consolidated data is required more than ever.
What's unique about PPM Core?
PPM Core efficiently addresses many of the obstacles that project teams face each day in today's reality of project management.
The tool uses the exported data from different project planning software solution such as the Microsoft Project and the Oracle Primavera P6, consolidates it and allows users to efficiently distribute it with project participants, as well as analyze, organize, report and interact with the project information in different ways, all without the need for additional software licenses for any of the solution used to create the plans.
Its simple to use, modern and comes with a unique Project-based licensing model suited for all types of project oriented organizations and companies.
The PPM Core platform is consisted of several modules.
At its core stands a Universal Project Viewer that allows all project participants to view project schedules, no matter the file format. Additionally, it features an integrated project status reporting section providing a detailed visual overview of each project's status through a set of measurable KPIs.
Universal Project Viewer – Gantt Chart View
The Project Portfolio Management module allows managers and PMO practitioners to efficiently manage projects, programs and project portfolios from a centralized environment. The module provides several features and views for different data analysis, creating, optimizing and prioritizing project portfolios such as the Portfolio Scorecard and Process Overview.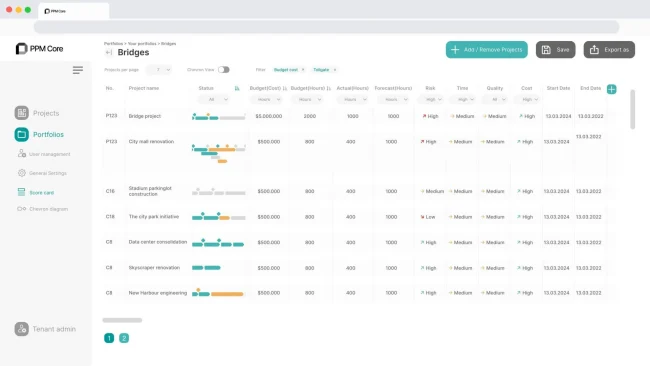 Project Portfolio – Scorecard View
To learn more about PPM Core you can request a personal online demo presentation with a representative from the team.
1. PPM Tools Gartner Magic Quadrants – Leaders Quadrant
Planview Enterprise One by Planview
Planview is a international enterprise software company located in Austin, Texas.  Their solutions empower organizations to connect their business from ideas to impact.
Planview is a well-known innovator and leader in the industry.
Planview Enterprise One is resource and project portfolio management software. The Planview PPM software offers to customers Gantt charts, schedule views, status of the project, lifecycle management, time tracking, and similar features to help enhance project planning and execution.
Clarity PPM Software by BROADCOM

Broadcom Inc. is a leader in technology worldwide that designs and supplies a large field of semiconductor and infrastructure software solutions.
The Clarity PPM software by the Broadcom company can easily transition to digital product management and overcome all operative and strategic project management challenges.
Planisware Enterprise by Planisware

Planisware is a worldwide provider of software solutions for project portfolio management that has been helping customers to achieve strategic and inventive greatness for more than 20 years.
The Planisware Enterprise software is an integrated solution that global companies and smaller innovators use  t manage their project and project portfolio management pipelines.
Planview Changepoint PPM by Changepoint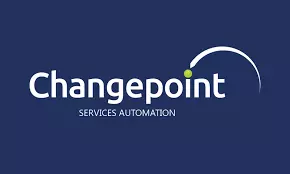 Planview acquired Changepoint to advance the company ability to accelerate strategy to deliver enterprises in 2021. By orchestrating services project portfolios and resources with business financials, Changepoint Services (now Planview Changepoint) powers the quote-to-cash lifecycle.
Changepoint Project Portfolio Management – Planview Daptiv, empowers the acceleration of decisions and improved business outcomes across the enterprise.
2. PPM Tools Gartner Magic Quadrants – Challengers Quadrant
Microsoft

Microsoft is the biggest American continental technology enterprise.
Microsoft makes computer software, personal computers, consumer electronics, and related services at the Microsoft Redmond campus. They also publish books and multimedia titles, make a production of its own line of hybrid tablet computers, offers e-mail services, and sells electronic game systems and input/output devices.
There are several Microsoft project portfolio tools including: Microsoft Project Online, Microsoft Project Server 2010, Microsoft Project Server 2013, Microsoft Project Server 2016.
Accolade by Sopheon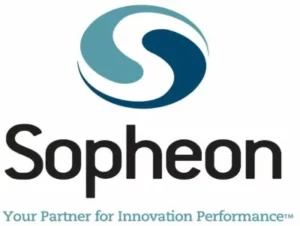 Sopheon Corporation is an American company for management software. Sopheon help their customers to improve their Enterprise Innovation Performance.
Sopheon's Accolade solution is a platform with fully-integrated, unique reports for the entire innovation management and new product development lifecycle.
The Accolade software allows companies to get faster to the market, with the right products mix. With Accolade, business leaders have clear visibility to R & D and NPD work, product and portfolio decisions and innovation plans.
Micro Focus Project and Portfolio Management (PPM)

Micro Focus is one of the largest companies in the world that provide software. Micro Focus offers mission-critical technology and also supports services that help a lot of customers across the globe to manage core IT elements of their business.
The Micro Focus Product and Portfolio Management (PPM) software mixes workflows and data to adjust investments with strategy. Top-down and bottom-up analytics power this strategic portfolio and project management tool.
Sciforma

Sciforma Corporation is an American software company based in San Jose, California. It is Java web based cross-platform solution.
The Sciforma software, previously named PSNext, is an enterprise PPM solution that can shorten the time it takes to get strategic goals accomplished by focusing on improved investment decision making, better and more realistic project staffing, and faster execution.
3. PPM Tools Gartner Magic Quadrants – Niche Players Quadrant
Eclipse PPM by Upland

The Upland team helps businesses worldwide accelerate digital transformation.
With the Eclipse PPM software you can manage every project in one system and measure the performance impact on your organization.
Keyedin Enterprise by Keyedin Solutions

KeyedIn Solutions is a global business software company based in Bloomington, Minnesota. They offer SaaS solutions that support the evolving needs of PMOs, ePMOs and SROs, enabling business transformation, strategy realization and organizational change. Keydin is a leader in Agile Portfolio Management.
KeyedIn Enterprise delivers the visibility and authority needed to put the PMO of your organization the front and center to strategic success.
WorkOtter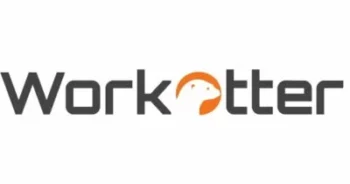 WorkOtter is a SaaS PPM software. It is a simple, easy-to-use, and supportable alternative to other outdated and overpriced solutions. It is often found in IT, New Product Development, and Engineering PMOs today.
Cerri Genius Project by Cerri

Cerri is a project management company based in Switzerland. Cerri provides big companies with easy-to-use solution, adoptable, and which benefits from a strong integration with Microsoft.
Cerri Genius Project provides detailed control and strategic vision over complex projects. Upgraded versions of Genius Project For Web and Domino give users complete visibility and control over projects, from calculating market share to monitoring time spent on one task.
4. PPM Tools Gartner Magic Quadrants – Visionaries Quadrant
Workfront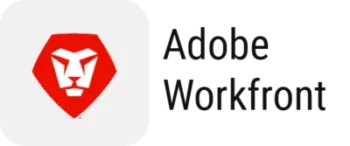 Workfront by Adobe develops web-based work management and project management software. Adobe Workfront features enterprise work management, issue tracking, document management, time tracking and portfolio management.
Clarizen Planview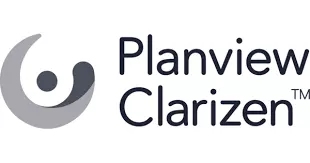 Clarizen is collaboration tool used across the enterprise. The tools provides the ability to share views, such as module views, roadmaps, project views, reports and dashboards.
Clarizen offers a very well project visibility and clear roll-up reports.
One2Team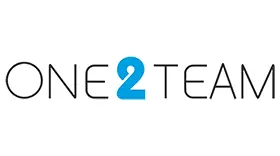 One2Team is a multi-solutions platform to manage enterprise-wide end-to-end processes for faster and more productive delivery in a hybrid world.
One2Team is named by in its 2019 PPM Magic Quadrant as the visionary with the most complete vision!
Project Objects

Project Objects is one of the leaders in providing of Extended Enterprise Project & Portfolio Management (XPPM) software.
The ProjectObjects PPM solution designed around needs for project portfolio management and has been awarded a Visionary ranking by Gartner, following a rigorous competitive analysis of the entire PPM software marketplace.
OnePoint Projects

OnePoint Projects is inventive company that provides ultra-modern technology with APIs and integrations to leading business applications.
Their software solution, OnePoint Project is a tool that offers powerful project portfolio analysis and prioritization.
Summary: The Gartner Report for PPM Tools
The Gartner 2019 report on project portfolio management tools features an extensive list where you can find and learn more about the different PPM vendors and tools currently available on the market.
Furthermore, the analysis covers details about each solution and ranks them in one of the four magic quadrants.
The official report is available at:
Gartner magic quadrant for project and portfolio management – may 2019