PMO Conferences 2022 – Best Conferences to Attend
Wondering what are some of the conferences that focus on PMO and why should you attend PMO conferences in 2022?
PMO stands for Project Management Office and represents the department in a company that manages projects, as well as supervises and defines standards and guidelines for projects, program and portfolio efficiency that the company should abide to. Big companies and enterprises have benefited from having a PMO for managing a big amount of crucial projects, all at the same time.
To be more specific, PMOs make sure that projects are successful and well managed, and they are also tasked to standardizes the processes of project and project portfolio management inside the organization.
Attending a conference can be beneficial for yourself as a project professional working in a PMO. Conferences are an excellent way to meet new people, expand your knowledge and gain new inspiration for the next steps in your career. And PMO conferences are no exceptions.
These conference focus on best case practices for managing projects, programs and portfolios as well as include a variety of programs and lectures that focus on the processes around building and managing a successful PMO.
On top of that, some of them also feature software exhibitions where you can discover innovative tools such as PPM Core that can help you better manage projects, programs and project portfolios.
Bellow, you can find a list of conferences related to the PMO and project management profession that you can attend in 2022:
The PMO conferences 2022 are listed in no particular order: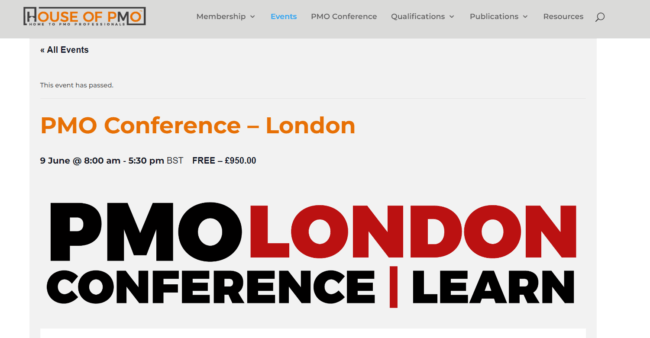 Where: House of PMO Lounge, London, United Kingdom
When: June 9th, 2022 / 8am- 5:30 pm BST
Details: The PMO conference organized by House of PMO is focused on the key challenges around programs, portfolios and project management offices and during this one-day event you'll have the unique opportunity to hear some of the latest practices and use-cases from leading experts and subject matter experts in the field. The agenda contains a variety of PMO expert speakers, and a committed PMO exhibition full of PMO services and products.
The conference has a proven track record and this year it is expected to provide a great time for all delegates and PMO practitioners, a lot of networking opportunities to connect with new PMO contacts or reconnect with old friends and ex colleagues, while enjoying the latest talk around PMO.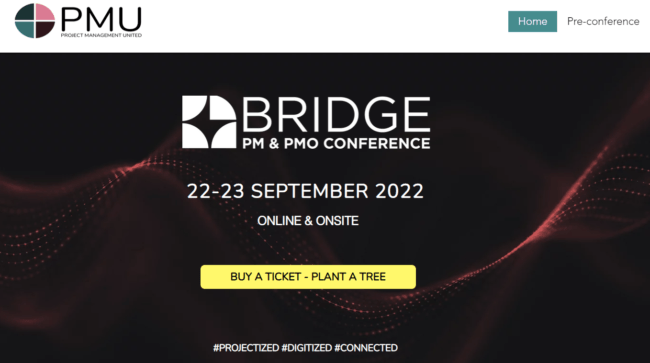 Where: 22nd (online) via Airmeet platform / 23rd (on site) Radisson Blu Lietuva (Alfa Hall), Address: Konstitucijos Av. 20, Vilnius
When: 22-23rd of September, online & offline
Details: The main topic of PM & PMO Conference BRIDGE 2022 revolves around the "Sustainable Project Manager". This topic is of high interest between the project management professionals. This year's agenda will include: projected strategies, digitalization in project management and cyber security, and power skills.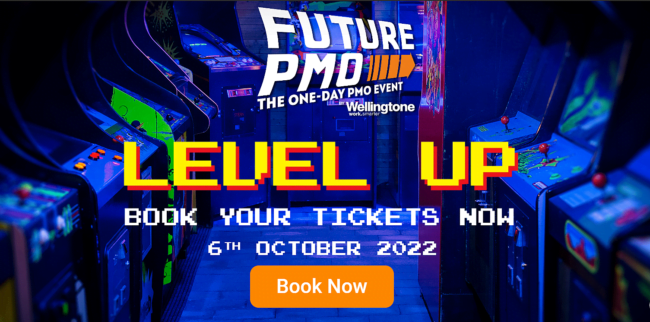 Where: St Stephens House, Windsor SL4 1RY, London, United Kingdom
When: 6th October, 2022
Details: FuturePMO is a one-day conference which is informative, fun, inspiring and friendly and it is plant to help you learn, grow and share while you look forward your future of your PMO and PPM reality. The attenders of the conference are PMOs and project management practitioners at all levels from everywhere in the world. This conference's speakers will make you explore the limits of your PMO thinking and will help your PMO work to smarter.

Where: Online
When: 23rd, 24th June, 2022
Details: PMOs must be stimulant toward digitalization, seeing the big picture and going up to the Digital Transformational and the AI strategy by leading the way to a sustainable digital future. With joining PMOG Al DAY 2022 you will get ready for a digital future full of Al capabilities. Many entrepreneurs, academies, executives and professionals will share their knowledge and inventive views on a critical look in the Artificial Intelligence future at this special virtual conference.
Other PM conferences for PMO practitioners
We suggest you take a look at a few more project management conferences with PMO related modules and lectures that can help you to meet new colleagues, upgrade your skills, expand your views and gain more knowledge important for your career.
Where: Caesars Palace  3655, Las Vegas Boulevard South, Las Vegas, NV 89109 United States
When: 1-3rd December, 2022
Details: Among a lot of topics related to project management, PMOs will take their place as an important part of every big enterprise. Capital Allocation Framework: Positioning the PMO to Become a Strategic Partner in Organizational Growth; Successful 10 Year Journey and Lessons Learned of a Hybrid Agile PMO; Foundations of an Enterprise Project Management Office are only a few of the PMO related discussions that will take a place at this conference.
Where: Belgrade, Serbia
When: 19-21th June, 2022
Details: The themes at the conference include practical and theoretical research from different project society aspects. With a theme on "Value co-creation in the project society", this conference will also focus on the PMO and hold a presentation on the topic of: Project, program and portfolio management for smart cities and smart rural areas.
Where: Le Meridien Airport Hotel (24-25th) Expo 2020 Dubai, Dubai Exhibition Centre, South Complex Hall 1 (26-27th)
When: 24th-27th January, 2022
Details: One of the masterclasses on 25th of January will be dedicated to PMO. The program will include three topics: Brief about Traditional PMO and its evolution through time; What is Agile PMO and impacts of the Agile method; Role of IT in enhancing PMO dynamic. When the program will be over, the audience will have clear vision of aspects of PMO in the future.
Where: Online (Virtual)
When: 5-6th May, 2022
Details: With your participation in this conference, you will be able to make connections with project management professionals from all over the USA. You will hear and see the best practices, lessons learned, trending topics, academic research and case studies led by professionals in the field. You will also have an opportunity to attend and hear the talks on PMO strategies, "Are PMOs really Dead" and learn how the PMO fits into the future of organizational strategy delivery.
Summary:
We hope that the PMO conferences 2022 article will help you to find interesting events that you can attend and gain new experience,  strengthen and upgrade your knowledge in managing projects, programs and project portfolios as a project professionals, as well as gain new contacts and professional connections.
If we missed an interesting event, feel free to share your suggestions with us at [email protected] and we will make sure to update this list with more interesting entries.