6 Steps to Project Portfolio Optimization for Business Growth
Have you ever wondered how large, successful organizations create, maintain, and perform Project portfolio optimization?
Well, wonder no more! This blog explains everything you need to know about project portfolio optimization.
To optimize means to "make the best or most effective use of a situation, opportunity, or resource" – source.
Project portfolio management (PPM) has become an indispensable tool for business leaders in today's competitive, global economy.
To remain competitive and continue growing, businesses must ensure that their programs, projects, and operations are aligned to the organization's strategic intent and deliver measurable value while still maximizing their return on investment (ROI). Without proper project portfolio management, this can be nearly impossible to achieve.
As a result, business leaders have begun using Project portfolio optimization (PPO) as a way to improve their business performance.
What exactly is PPO – project portfolio optimization? How does it benefit your business?
6 Steps to Project Portfolio Optimization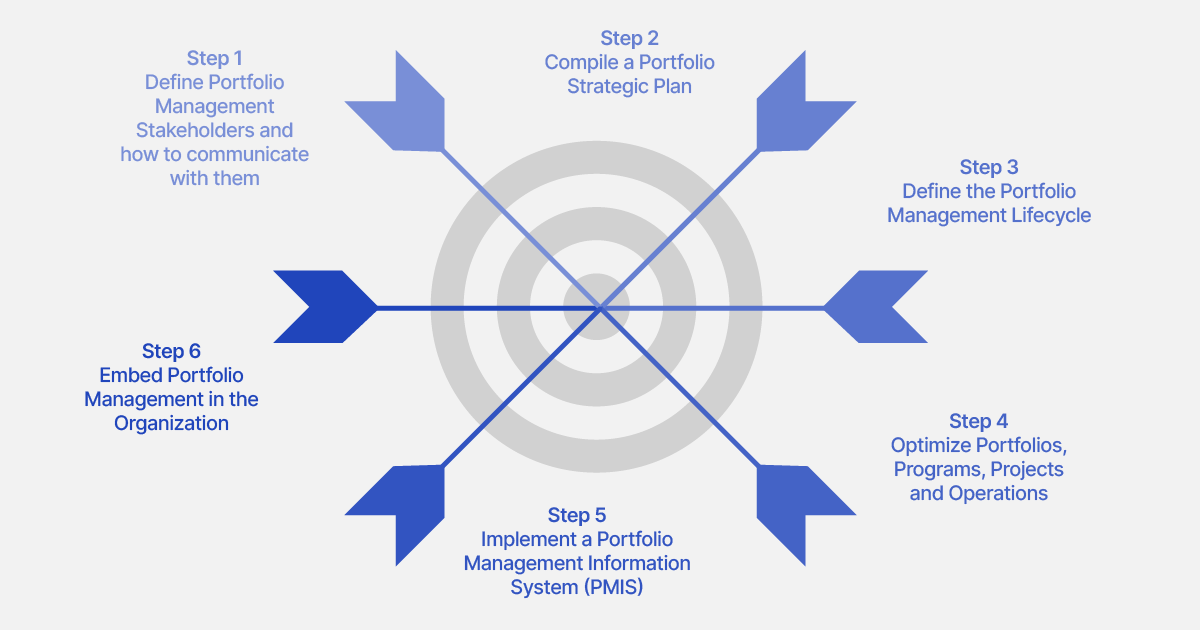 Step 1: Define Portfolio Management Stakeholders and how to communicate with them
Portfolio stakeholder engagement is a strategic endeavor that primarily deals with stakeholders that operate at a higher level, more so than those that operate directly at the program or project level.
The focus of stakeholders at this level is on delivering the strategies that have been allocated to the portfolio. Comprehending the needs and desires of all stakeholders is necessary to establish an orderly flow of information.
Identifying the most effective approach to communication between stakeholders involves many factors, including organizational governance practices and processes.
The tools, software, or media for conveying information to stakeholders, the format of the communication, and the intended frequency is a critical success factor when implementing portfolio management as a discipline.
Step 2: Compile a Portfolio Strategic Plan
A portfolio strategic plan contains details of how the project portfolios align with the organization's strategic intent.
The portfolio strategic plan is a document used to harmonize the organizational and financial structures with the organization's goals, mission, and objectives. Typically, this plan contains a vision statement, a mission statement, and tactics the organization intends to accomplish these long-term goals and objectives.
Step 3: Define the Portfolio Management Lifecycle
The Portfolio management lifecycle governs and sustains groups of portfolios, programs, projects, and operations and enforces consolidation, unification, and standardization across the organization.
In the world of globalized markets, the portfolio lifecycle needs to be adaptable and flexible to constantly react to change within a VUCA (Volatility, Uncertainty, Complexity, Ambiguity) world, which spawns from any external or internal source.
If there are many portfolios to manage, they can be either centralized or decentralized in the way they are managed based on the existing governing structures in place.
The rules of managing the portfolios need to be flexible so that they can adjust to a diverse array of portfolios. Periodic selection and updating of your portfolio can be as simple as one quarterly and/or monthly update.
Project Portfolio Management Lifecycle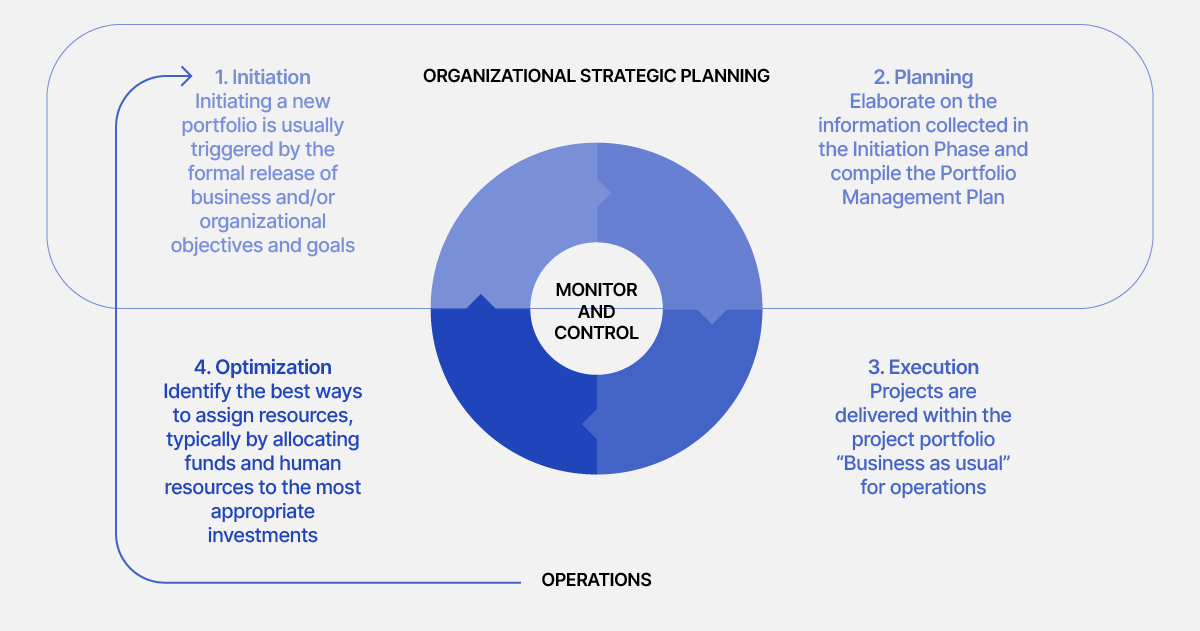 The typical phases of a portfolio lifecycle consist of:
Initiation Phase
Initiating a new portfolio is usually triggered by the formal release of business and/or organizational objectives and goals. This business and/or organizational objectives, goals, and tactics must be mapped to the individual components of the portfolio.
This phase defines how major processes will operate throughout the project portfolio lifecycle.
In the Initiation Phase, the major deliverables are:
Project portfolio management stakeholder register

Project portfolio management stakeholder management plan

Project portfolio strategic plan

Project portfolio vision and mission statement

Portfolio governance management plan

Portfolio communication management plan

Portfolio risk management plan

Portfolio selection and prioritization criteria

Portfolio selection and prioritization model

Portfolio charter

Portfolio value metrics and key performance indicators

Portfolio roadmap
Planning Phase
In the Planning Phase, the major deliverables are:
Scope of components within the project portfolio

Funding requirements

Interdependencies between project portfolios

Portfolio risk register with response plans

Portfolio issue register

Portfolio assumption register

Definition of human, financial, asset resource requirements

Prioritization of portfolio components

Project portfolio management roles and responsibilities

Portfolio metrics to measure success

Portfolio management plan
Execution Phase
In the Execution Phase, the major tasks are:
Ensure that projects are delivered within the project portfolio

"Business as usual" for operations

Manage and mitigate risks and issues

Streamline project portfolio communication

Continuously reprioritize projects. Organizational changes may result in a revaluation of projects. New concepts are vetted, as needed, to address unexpected needs

Monitor benefits realization

Manage and forecast project portfolio assets and resources, costs, and timelines
Optimization Phase
Optimization is a process in which Portfolio managers identify the best ways to assign resources, typically by allocating funds and human resources to the most appropriate investments. Although many organizations hold regular optimization sessions, they are generally only necessary when one or more components of a portfolio change.
To optimize a portfolio, Portfolio managers should understand which components of the portfolio will remain constant and which will change over time. They should also have in-depth knowledge about the factors that are within their control and those that are not.
Monitor and Control Phase
The phase that monitors and reports on project portfolio performance. A portfolio's health is reported by reviewing metrics established during the planning phase of the lifecycle.
Monitoring and controlling in the portfolio management process is used to identify when changes to the portfolio or the process need to be made by comparing financial objectives and specified reporting criteria.
Once it has been implemented, project portfolio management is a long-term process, and performance monitoring of the portfolio is an ongoing practice. It may be necessary to adjust the portfolio components when changes happen within the organization.
Step 4: Optimize Portfolios, Programs, Projects, and Operations
Portfolio optimization is an essential part of an organization's planning process. As such, benefits, risks, and resources are considered and carefully balanced.
Projects either in the pipeline or underway should be monitored so that cost and schedule overruns don't occur as well as overutilization of technology and human resources.
Divide portfolios, programs, projects, and operations into categories.


Categories are pre-assigned designations that help clarify more details by grouping common components with specific goals.

Determine what business benefits the portfolio, programs, projects, and operations will deliver.
Project business case's and the project benefits realization management plan's containing the  planned benefits the project will deliver. These benefits are puzzle pieces that contribute to achieving the organizations strategy and include the suggested approach for measuring and realizing these benefits.
Prioritize and select programs, projects, and operations.


Not every project is treated with the same level of urgency. It is important to prioritize projects and keep in mind project dependencies based on organizational goals, implementing high-priority projects over low-priority projects.




The goal of project portfolio optimization is to identify and remove low-value projects from a portfolio, or to allocate more budget or resources towards projects that are high value, strategic in nature, or otherwise support major goals of an organization.
For example, if an organization is experiencing business growth and becoming more complex, new IT projects might be needed that were not anticipated in previous years, as well, existing projects may require enhancements and the second phase of investment.
Estimate delivery costs and timelines.
To be profitable and efficient, it is necessary to track the cost and time to implement a portfolio and to continuously watch it.
Supply real-time status reporting for executives and provide a holistic view of all project portfolio components.
Executives must make business decisions and, to make the best decisions for the organization, they need real-time status reports and visibility into the portfolio's performance. A Portfolio Management Information System is essential for supplying insight and standardizing portfolio governance.
Step 5: Implement a Portfolio Management Information System (PMIS)
To successfully achieve Steps 1 to 4, you will have to implement a PMIS. The sheer volume of data from various sources makes it essential to select an integrated software solution to visualize project portfolio performance and enable communication.
It is important to consider that integration among all of the management tools contributes greatly to shared and accurate information among the entire organization.
A PMIS is a software solution that includes the tools and techniques used to gather, analyze, synthesize, store, and report the outputs of project portfolio management.
This software may also include automated data gathering and reporting of key performance indicators.
The PMIS facilitates better decision-making, ensuring visibility and more measurable target attainment across the organization. It offers accountability to management by facilitating greater insight into the work that is going on, its output, and the steps it's taking to get there. It supports standardized data, visibility, and process improvement, while gathering real-time metrics, thus proving a clear pathway to management with key performance data.
The PMIS is a powerful governance tool for decision-making, as it ensures transparency and brings responsibility and accountability to the organizational portfolio.
The portfolio manager has access to sensitive information that may not be available at lower levels in the organization. Precautionary measures, especially for the more sensitive material in portfolios, including competition-relevant or other trade-secret-containing information, are put in place to restrict access to certain key players.
Modules within a PMIS may include:
Project portfolio categorization

Business process standardization using automated workflow

Centralized document repository

Financial management and tracking

Schedule management and tracking

Risk and issue database and analysis

Project portfolio dashboard reporting aligned to the roles within project portfolio management (Executives will see different reports that a project manager)

Project portfolio key performance indicators with exception reporting
An example of a PMIS
An example of a PMIS is PPM Core: Project Portfolio Management Platform.
Step 6: Embed Portfolio Management in the Organization
At the end of the day, the success of your PPO initiative will depend on how well you embed it into your organization.
Work with senior management to create formal communication channels between PMO, portfolio owners, and the business leaders. Senior management should also establish rules that clarify roles and responsibilities throughout the PPO process and provide financial resource provisions.
If you're introducing a new method of work, start with a pilot program that uses real projects in which you can implement lessons learned as they happen.