Project vs Program vs Portfolio: The Three Ps in Project Management
What's the difference between Project vs Program vs Portfolio and how are they seamlessly managed?
Most Project Managers will have heard of all three of these terms.
Let's look at all three of these common project management terms and discuss where they overlap, what is the difference between Project vs Program vs Portfolio and how they complement each other.
Project Portfolio
A Project Portfolio is a compilation of Projects, Programs and individual Operations. All of these components are united to achieve an organization's strategy.
Organizational strategies and their objectives shape an organization's decisions, direction, purpose, and allocation of resources to meet its goals. These goals can vary depending on the mission and vision of the organization and serve as a primary input to portfolio management.
Portfolio Management is the vehicle through which change initiatives and strategic investments are undertaken to realize strategic goals and objectives. Linking portfolio management to strategy balances the use of resources to maximize the value delivered from executing programs, projects, and operational activities.
The organizational strategy and objectives are translated into a set of initiatives, which are then affected by many factors such as market dynamics, customer and partner requests, shareholders, government regulations, internal stakeholders and their aspirations, and competitor plans and actions. These initiatives are the beginning of a portfolio of programs, projects, and operations that need to be executed over a specific period.
Sometimes these various pieces of the pie are related, and sometimes they're completely different from one another. Related or unrelated, each component in a portfolio is fighting for a share of the limited resources. These resources may be human, financial, asset or intellectual resources.
It is not uncommon for an organization to have multiple portfolios that deal with different business strategies. A new initiative or a project may be suggested, categorised and moved into an existing or new portfolio at different points in time. New initiatives can either come from senior management, or from end users or project teams. These two approaches, based on the source of origin can be defined as a "top-down approach" and a "bottom-up approach".
Portfolios go through a life cycle that includes Initiation, Planning, Execution, and Optimization. The diligent management of this life cycle is crucial for resource optimization in today's constantly changing environment.
Operations Management and why it is an integral component to Project Portfolio Management
While Programs and Projects are temporary, Operations or "Business as Usual" is ongoing.
Essentially, Operations Management includes the oversight of business practices to create the most of organization resources, like material, machinery, technology, and labor. In this way, business benefits the organization by creating high-quality goods and services, thereby delivering the organizational strategy.
Project Program
A Program in project management t is a set of related projects, grouped and managed so they can be executed at the same time, which means that resources, activities, and stakeholders can be shared. A Program delivers its intended benefits through component projects and subsidiary programs that pursue complementary goals that contribute to delivering benefits.
There are times when coordinating the management of multiple projects together is important, as it can lead to more sustainable outputs and help to alleviate competition for resources. Project Management has the term program for collections of projects that do this. As is typical of a temporary organization, when the projects are all completed, the program will come to an end.
Program Management provides a framework for managing related efforts considering key factors such as strategic benefits, coordinated planning, complex interdependencies that may create new emergent issues and risks, deliverable integration, resource pools, and optimized pacing.
Projects
Projects are temporary in nature and usually created with a specific purpose or end goal in mind, for example, creating a product or some form of a service.
Projects are executed with the goal to complete a pre-defined objective. A project objective is simply the end goal for the specific project. Projects may product deliverable at the end, which can be in a tangible or intangible form.
Projects come in different shapes, sizes and there are a variety of ways to organize and manage them.
The following life cycles exist to deliver projects:
Predictive life cycle. A traditional approach, with the majority of planning occurring upfront, then executing in a single pass; a sequential process.
Iterative life cycle. An approach that allows feedback for unfinished work to improve and modify that work.
Incremental life cycle. An approach that provides finished deliverables that the customer may be able to use immediately.
Agile life cycle. An approach that is both iterative and incremental to refine work items and deliver frequently.
Key Roles aligned to the Three P's, Project, Program and Portfolio
The following roles are required to successfully implement the Three P's, lets briefly discuss them:
Sponsor – A sponsor is a person or group who provides resources and support for the portfolio. A Sponsor takes responsibility for ensuring that there are adequate provisions in place to ensure the success of the portfolio, program, project or operation. The sponsor is also known as the "Political Warrior" and advocate within an organizational hierarchy that breaks down barriers with senior stakeholders.
Portfolio Governance Body – Portfolio governance is the framework and structure to guide management activities and make decisions about investments and priorities for the portfolio and to enforce the established policies for an organization.
Portfolio, Program, and Project Management Office (PMO) – The value of the PMO is often debated and the new buzz word is a 'Value Management Office'. At a summarized level, this is the role of the PMO:
Update, develop, and refine program frameworks and methodologies, these may be waterfall, agile or hybrid.
Manage knowledge regarding the project management discipline, including good practices and lessons learned.
Provide detailed Program and Project progress information to a project governance board using key performance indicators (KPIs).
In charge of compliance and achieving goals, such as regulatory and management regulations and success, in the Portfolio.
Assist with Risk Strategy creation and risk identification, and communicating risks and issues related to portfolio components.
Keeping all the communications of all of the company's projects in sync.
Conduct training for human resources on skills, tools, and techniques related to portfolio management.
Portfolio Analyst – Ever heard of a Portfolio Analysis?  Here is what they do:
Identify and track interdependencies between portfolio components and facilitate their resolution/management at the portfolio level
Identify portfolio management process gaps, recommend improvements, and help implement them.
Facilitate feedback from all stakeholders and continuously improve the
Portfolio Manager – Establish and implementing portfolio management, sound simple but its not!!!  Portfolio managers often play more than one role:  architect, enabler, and facilitator.
Program Managers – ensure that a program's overall structure and processes align with the program management plan and provide benefits that are desirable and aligned to the organizations strategy.
Project Managers – We all know what a project manger does, but here it is again  …..  initiating, managing, executing, measuring, and closing assigned projects within the portfolio in accordance with corresponding objectives and specifications.
Change Control Board – This group, made up of a mix of different stakeholders, is responsible for reviewing, evaluating, approving, delaying, or rejecting project changes.
Program and Project team members – the people who do the work!!!
Operations Manager and Staff – Organizational strategy is implemented through portfolio components and ongoing operations. An Operations Manager uses his or hers specialist skills to do routine work repeatedly and to ensure a profit is generated, often to funds new projects.
To be effective, it is essential that these key stakeholders all understand their roles and responsibilities and have clearly defined reporting lines.
How are project vs program vs portfolio: interlinked?
The differentiating distinctions between Portfolio, Program, and Project Management can be seen in their interactions. A Portfolio Manager selects, prioritizes, and staffs a Program or Project with input from other personnel. Program Managers coordinate related Projects and subsidiary work to fulfil the organization's needs, while Project Managers make sure the Project succeeds by working on specific goals or needs of the project.
Operations Managers manage, plan, implement projects, supervise production, and evaluate outcomes for the organization to remain profitable and competitive in its industry. In many cases, the profit made in operations is used to fund projects.
Implementing sound project management practices can assist an organization to meet its goals and objectives. Sometimes projects need to be managed by one person, in a program, or in a portfolio.
Because a project may be part of a program or portfolio, a project manager has to work with the program manager and portfolio manager in his or her organization. Occasionally this may lead to conflict among the groups, due to overlap in stakeholders or the same resources. The need for portfolio, program, and project management is even more critical when this type of conflict occurs.
Is it possible to effectively manage the labyrinth of Three P's?
The PPM Core Portfolio, Program and Project Management Software is the answer to successfully manage the Three P's.
PPM Core is a software that provides a centralized platform designed that supports the management of all projects and project operations through a suite of different modules that address key areas such as: schedule visibility, project portfolio management and optimization, project reporting, and more.
The excellent features of this software allow those responsible to more efficiently manage the phases in the current project, as well as a group of projects within a project portfolio. All project participants and stakeholder can get a quick and simple way to access the needed data contained within the project plan, from anywhere and at anytime, which allows them to collaboratively manage projects and always stay informed of their assignments, tasks, and the big project and organizational picture.
PPM Core is the missing link in your software project environment that will revolutionize your project collaboration.
With its core module, the Universal Project Viewer, it uses the data from existing schedules created with different software products such Primavera P6, Microsoft Project, and others to deliver dynamic visual project insights, that every project participants can easily understand and use within a single platform and without the need for additional software licenses.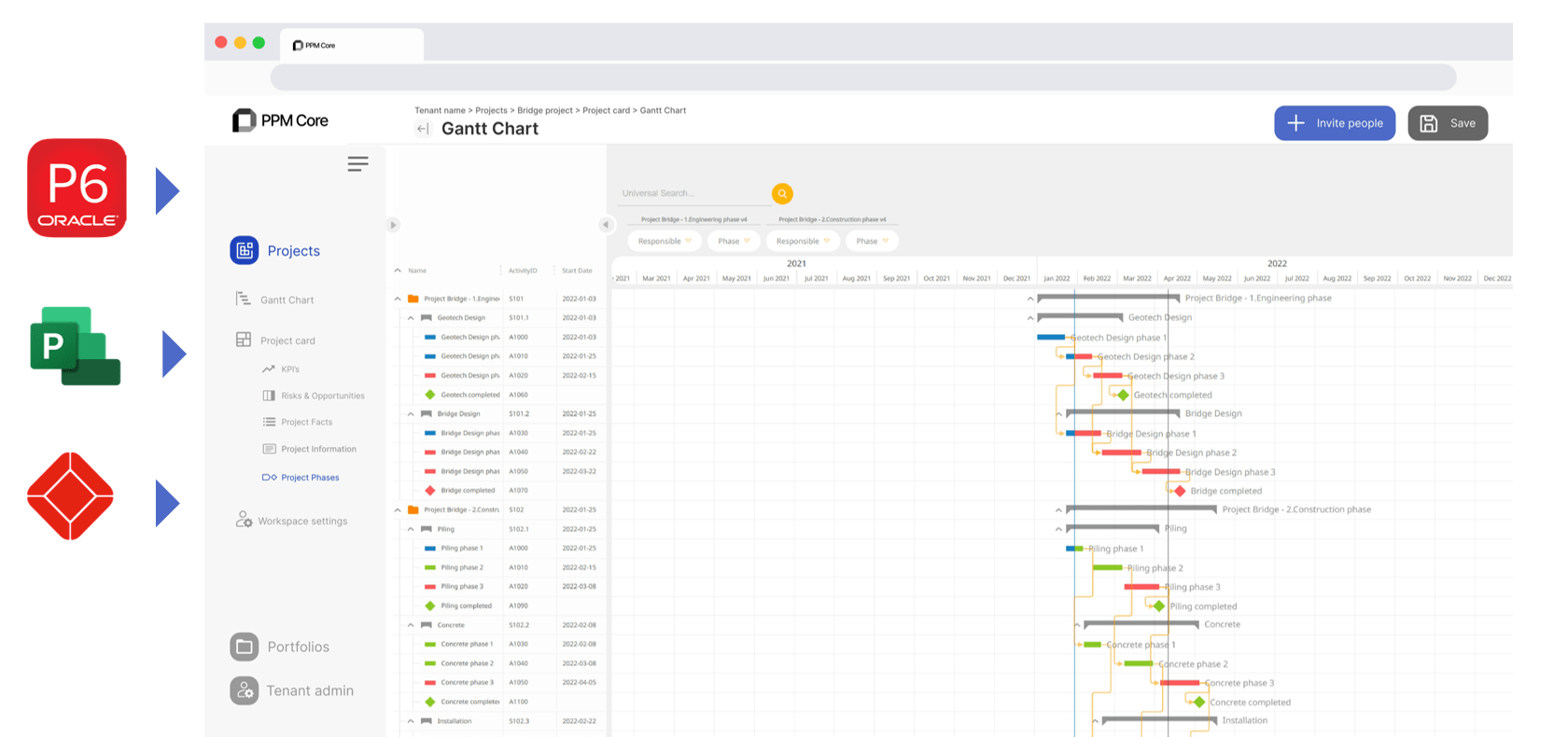 By ensuring that every project participant has access to the needed data to support him in making the right decisions, without the need for any additional tools and software licenses, PPM Core is able to provide organized, consolidated data that can be easily communicated between all project actors both, cross-organizations and cross-teams.
Additionally, the Project Portfolio Management module provides support for different analysis, tracking of KPIs, project reporting and project portfolio planning and optimization options that will allow senior managers to ensure efficient decision making and successful completion of projects.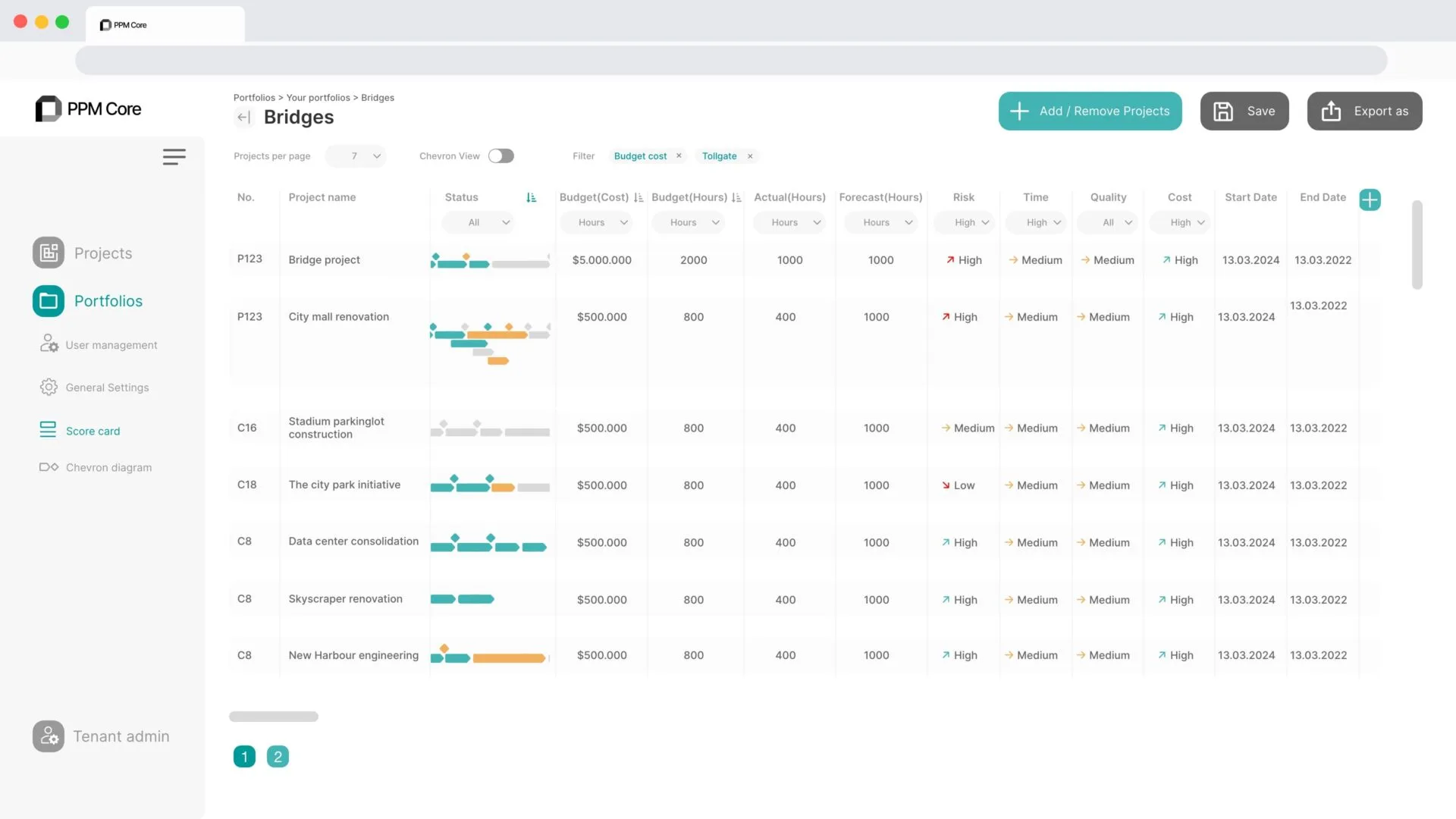 Learn more about how PPM Core can help you manage projects and project portfolios.
Is it possible without Portfolio, Program and Project Management Software? – a resounding NO!!
Because Organizations need to integrate large volumes of data and information, it's essential to use Portfolio, Program, and Project Management Software to help deliver benefits such as:
Portfolio prioritization and funding
Centralized dashboard for executive reporting of key performance indicators.
Software automation to replace manual processes.
Centralized online document repository and version control.
Change or configuration management.
Workflow management and escalation management.
Tracking and trending of portfolio risks, issues, assumptions, and dependencies.
Integration with other applications and integrated business process management tools.
Risk database and associated analysis tool with risk appetite, attitude, and escalation.
Issues database and associated analysis tools.
Data integrity and security is a large and growing challenge.
Reviews and audits.
Integrated reporting.
Timeline and budget tracking.
Communication and collaboration across virtual teams and remote workers.
Role based exception reporting.
Mind-blowing statistics
Highlighting how organizations and employees are leveraging software to enhance communication and collaboration across virtual teams and remote workers
80% of global corporate remote work policies had shifted to virtual and mixed forms of virtual team collaboration during the early part of the coronavirus crisis. (Meluso et al., 2020)
64% of organizations say that the shift to virtual team work will likely be a permanent one because of COVID-19. (Meluso et al., 2020)
75% of virtual teams worldwide say that remote collaboration allowed them to be more effective in their jobs. (Meluso et al., 2020)
62% of employees worldwide say that they might think of resigning from a co-located organization to a company that offers remote work. (GitLab, 2020)
A summated visual of the Three Ps: Project vs Program vs Portfolio:
| | | | |
| --- | --- | --- | --- |
| | Projects | Programs | Portfolios |
| Definition | Temporary endeavor to create a unique product, service, or result. | Group of related projects and programs that are managed in a coordinated manner to obtain benefits not available from managing them individually. | Collection of projects, programs, portfolios, and operations managed as a group to achieve strategic objectives. |
| Scope | Projects have well defined objectives. Scope is progressively elaborated throughout the project life cycle. | Programs have a scope that incorporates the scopes of its program components. | Portfolios have an organizational scope that changes with the strategic objectives of the organization. |
| Change | Project Managers expect change and implement processes to keep change managed, documented and controlled. | Programs are managed in a manner that allows and adjusts to change as to optimize benefits. | Portfolio Managers endlessly monitor changes in internal and external environments. |
| Planning | Project Managers progressively elaborate high-level information into detailed plans throughout the project life cycle. | Programs are managed using high- level plans that monitor interdependencies and progress. | Portfolio Managers create and maintain processes and communication relative to the portfolio. |
| Management | Project Managers manage the project team to meet the project objectives. | Programs are managed by Program Managers who ensure that program benefits are delivered, by synchronizing the activities of a program's components. | Portfolio Managers may manage portfolio management staff, or program and project staff that may have reporting responsibilities into the portfolio. |
| Monitoring | Project Managers monitor and control the work that the project was undertaken to deliver. | Program Managers monitor the progress of program components to ensure the overall objectives, and benefits of the program will be met. | Portfolio Managers monitor strategic variations and collective resource allocation, performance results, and risk. |
| Success | Success is measured by product and project quality, timelines, budget and customer satisfaction. | A program's success is evaluated by the program's ability to deliver its intended benefits. | Success is measured in terms of the aggregate investment performance and benefit realization of the portfolio. |
Project vs Program vs Portfolio – Can You Manage Them Without Software?
Flight instruments are displayed in the cockpit of an aircraft and give the pilot a sense of what the aircraft is doing, such as the altitude, airspeed, and vertical speed.
Would you board an airplane without functional instruments?
The same question goes for managing Portfolios, Programs and Projects with software.
Luckily, PPM Core can help you to efficiently manage the 3Ps over looked in this article (Project vs Program vs Portfolio).
Book your personal demo session with our team today and we will show you how!