PMWeb – Project Portfolio & Construction Project Management Software Alternatives
PMWeb is a comprehensive web-based project portfolio and construction project management software that provides a thorough set of project, program and project portfolio management functions in a single configurable package.
In this article we will take a look closer at the PMWeb software solution and list few of the similar software alternatives in the PPM world based on common features and similarities such as: project and project portfolio management, cloud-based access, resource management, view of schedules and collaboration, as well as similar adoption across industry verticals.
PPM – Project Portfolio Management Software
Project portfolio management tools help companies and project professionals to optimize, manage and control the execution of projects across different industry verticals.
With an all around PPM tool, PMOs, project team members, executives, and project managers are able to see and control the project progress, manage risks, analyze data, create reports and make decisions to keep projects on time and budget, as well as and make forecasts and plans as they look to invest in new projects and formulate strategic initiatives.
Construction Project Management Software
Construction project management software is a term used to refer to a specialized platform that helps companies manage construction projects from the initial idea to the final realization, across the different stages of planning, execution, closeout.
Choosing the right construction project management software that adequately answers the need of the project and that can satisfy the complex requirements for managing the project is vital for each construction project, as these projects are cost and time heavy.
PMWeb – PPM and Construction Project Management Software

PMWeb is a software platform that supports companies, construction managers, and contractors in managing project operations and their project portfolios. The PMWeb construction project management software is a powerful, easy-to-use, all-in-one solution used by industry leaders worldwide.
The software has several different modules that combine different features for:
Planning and scheduling
Estimating and Costs control
Managing Documents, assets and workflows
Over the years, PMWeb has positioned itself as one of the best software solution for managing capital construction and related projects.
The product offers a practical solution to companies that struggle to have a full overview of their portfolio of projects, whose documents are stored on many different locations and who cannot make quick decisions because of how they structured their workflows.
PMWeb offers a "Single Source of Truth" within the project environment and provides several useful features to support the top-down project portfolio management processes, including creating project plans. as well as other features to support keeping the planned initiatives aligned with the actual progress on project and portfolio level.
PMWeb Alternatives – Other PPM and Construction Management Software
If you are looking for a PMWeb alternative software solution to match your company or project requirements, below you can find a list of few of the more familiar software tools that you can also consider:
The products are ranked in no particular order.
PPM Core by Synami

PPM Core is a new modern, easy to use project and portfolio management platform that aims to bring positive change to the project management paradigm and how teams, organizations and project participants collaborate in today's new and complex project environment.
Today project are becoming increasingly complex, with multiple companies, as well as different teams from one or more companies involved in one or several projects, the growing adoption of remote work, and the need for fast data driven decision-making.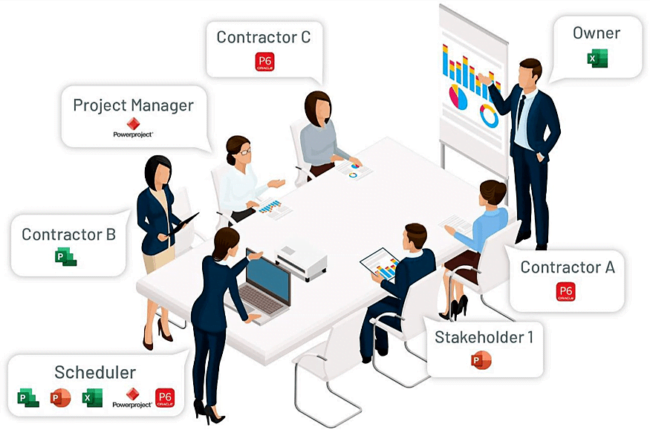 And PPM Core is here to provide support for companies to quickly overcome these challenges.
The platform provides efficient cross- team and cross-organizational communication for all project participants, and successfully addresses the data exchange challenges that arise due to the use of different tools by different project participants.
With PPM Core data is centralized, consolidated, and easily accessible for use by every different project participant.
PPM Core features several modules, including a unique Universal Project Viewer and Project Portfolio Management module.
What they allow you to do?
View, analyze and report on project plan data from Primavera P6 XERs, MS Project MPPs and other schedules, all without additional software licenses
Fully plan, optimize and manage projects portfolios
PPM Core also features a unique project-based licensing model that allows companies to get all project participants from the organization and outside on board, thus ensuring efficient way of project collaboration.
Benefits of adopting PPM Core include:
A single source of truth for all processes and data
Democratized data, available to all project participants, from anywhere, at all times
Better visibility of task, assignments, project status and performance
Informed decision-making with focus on objective business goals.
Improved collaboration and communication
Book a free online demo presentation to learn more about PPM Core.
Procore

Procore is cloud-based construction management software mostly used by construction companies, property owners, project managers, contractors, and different project participants to manage projects, from planning to closeout.
With Procore construction teams can collaborate and share access to documents, planning systems and data.
Oracle Primavera

There are several products by Oracle wearing the Primavera name that are primarily used in construction project and portfolio management.
Oracle Primavera Cloud (OPC)
Primavera Cloud (previously known as Prime) is the first on our list, and it is a tool primarily used for project portfolio management. As cloud-based solution, the software allow executives, project members and field users to deliver projects, as well as create, optimize and manage project portfolios.
Primavera P6 Professional Project Management (PPM) and Primavera P6 Enterprise Project Portfolio Management (EPPM)
Primavera P6 is the second in the line. It is formally described as an enterprise project portfolio management software with features such as:
Project management
Scheduling
Risk analysis and opportunity management
Resource management
Collaboration and control capabilities
The Primavera P6 comes in two versions the PPM (on-premise) and the EPPM (web-based) versions.
Primavera's windows-based project planning tool (PPM) is one of the most popular tools for managing construction projects around the world used to create plans and manage the execution of one or multiple projects.
Primavera P6 EPPM is the P6 web-based counterpart and is considered to be an enterprise portfolio and project management tool widely used in the construction industry.
If you want to read more differences between Primavera P6 PPM and Primavera P6 EPPM, here is a useful article:
Microsoft Project & Portfolio Management

Microsoft Project PPM is, or the Project Online version,  is a cloud-based project and portfolio management solution for that allows users to manage projects, project portfolios, programs and resources.
The MS Project Online Professional provides many different features related to creating, and managing the execution of the project through the project schedule, while at the same time providing portfolio analysis features to allow companies to create, optimize and manage the optimal group of projects and align them with their strategic objectives.
Autodesk Construction Cloud
The Autodesk construction cloud is a cloud-based platform that enables a "Single Source of Truth" and collaboration at every stage of the construction processes, from design, to planning, building, and operations through a connected, unified and integrated suite of tools..
Autodesk connects teams, project data and workflows and enables project management, while reducing risks and maximizing efficiency by bringing together the most powerful construction management software products in the industry in a configurable, easy to use and accessible package.
Summary – PMWeb alternatives
A variety of PPM and construction project management tools and platforms exist on the market today.
With the PMWeb software platform featured as one of the fast-adopted solution in this market, this article lists a few additional alternatives that companies can also look up to, when they are considering the most appropriate tool to support them in their business.
More alternatives solutions, as well as detailed comparisons and feature overview can be found on software comparison websites such as G2 Crowd, Capterra, Saashub and others.